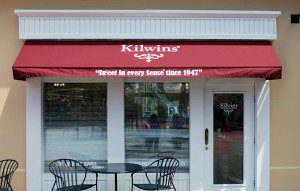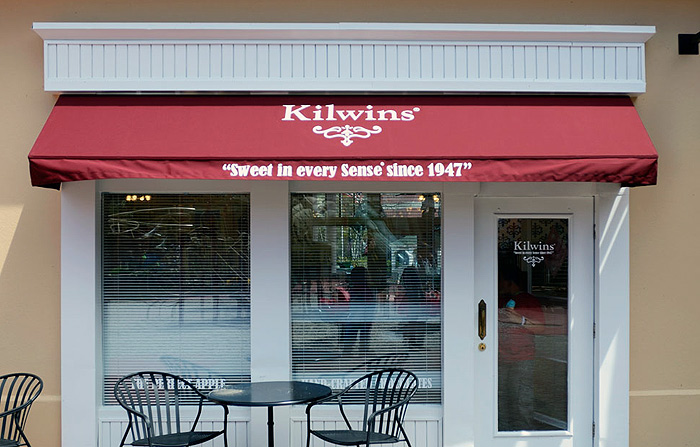 Business awnings and custom canopies are extensions on a building that 1.) Protect customers from the elements, 2.) Use color and graphics for decoration, and 3.) Promote your business with branding.
The difference between a business awning and a canopy is that awnings are attached to the building, usually above a door or window. The main function of an awning is to block the sun. Awnings come in a variety styles: dome, slope and waterfall. Commercial awnings are also used on indoor walls to visually create separate spaces like this awning in a showroom.
Canopies usually extend off a building far enough to need additional support. Canopies are used to cover seating areas or extend an entrance to provide additional protection from the elements for customers.
Outdoor commercial awnings and custom canopies are used for a variety of reasons in the sign industry. In addition to their functional purpose, a commercial storefront awning or custom canopy can be used for advertising and to enhance the architectural appearance of a building. Signs by Crannie has designed, manufactured and installed business awnings and canopies of all sizes, shapes and colors. The cost of a custom awning or canopy depends on the size and shape. A simple storefront awning can cost as little as $1,500 installed, or a more complex design like this commercial storefront awning at Planet Fitness can run $16,000 or more depending on the size and complexity. Because we offer leasing, these costs can be spread over time.
Business awnings and custom canopies are usually custom fabricated aluminum frames covered with a flexible vinyl fabric. You can back-light vinyl awnings to combine protection from the sun, branding and added security at night. Once you add logos and lettering, an awning or canopy can take the place of outdoor wall signs. In addition to vinyl, custom awnings and custom canopies can be constructed from canvas, corrugated metal awning or painted aluminum awning for a unique look.
Business awnings and custom canopies offer a cost effective way to enhance the appearance of a building. They provide an interesting architectural element to your building, shelter and added security. The shape and style is limited only by your imagination. See the many different styles of branded awnings and canopies below that we have created for our customers. If you would like more information on how we can help you use business awnings and custom canopies to enhance your business please call us today.