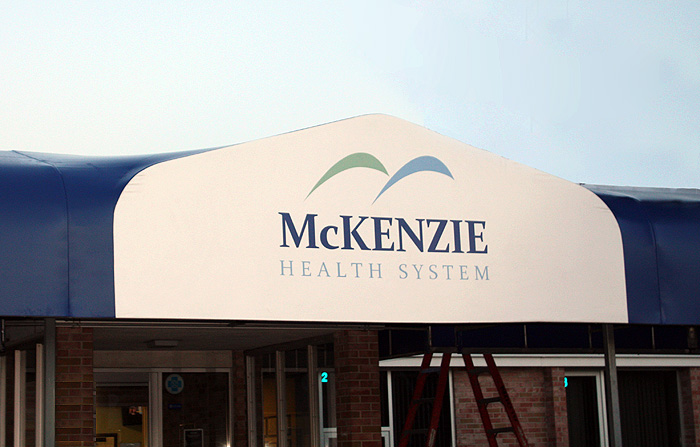 Commercial Awning Replacement
Commercial awning replacement and an exterior illuminated monument sign helped McKenzie Health System re-brand one of their locations.
McKenzie Health Systems campus in Sandusky, Michigan is the hub of a group of regional health care facilities in the Michigan "thumb" that provides medical services to local residents. They wanted a modern, sleek looking sign that would emphasize the new logo design.
SBC started by replacing their awning, then designed a "sculpted" monument sign with raised copy that enhanced their logo. Not only did they get a sign, but also got a work of art.  The exterior lighting accentuates the design during the day and at night.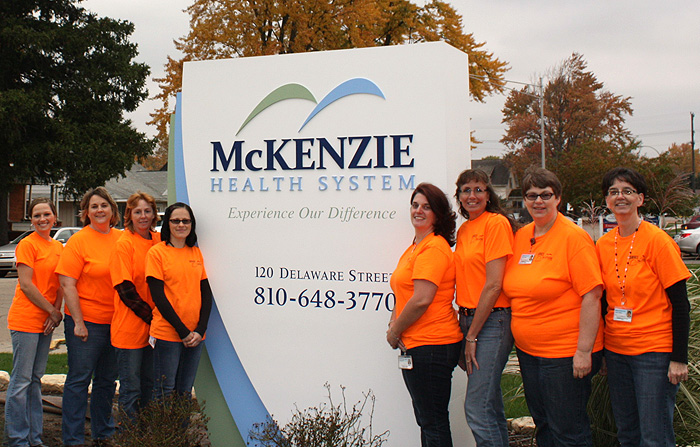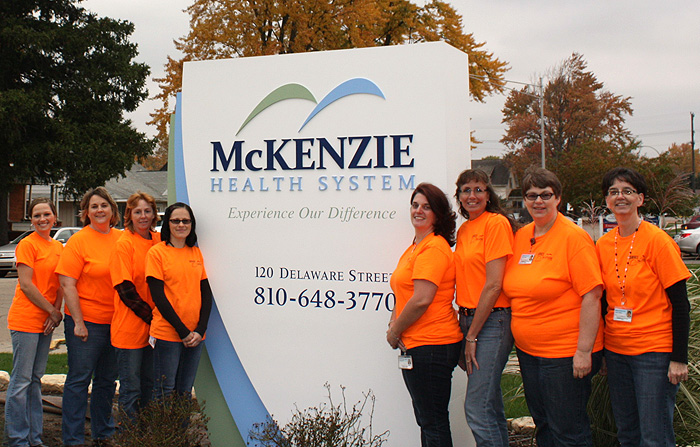 About McKenzie
McKenzie has a long history in the community, beginning in December 1959.  At that time, Kenneth H. McKenzie, a local banker, merchant and life-long resident, left a bequest of $214,772.00 to the Sandusky community to be used for the establishment of a hospital.  Although that amount in itself was not enough to finance the cost of the much-needed medical facility, the generous bequest set the stage for the hospital to be developed.
After extensive planning, in October 1964, the hospital association purchased property from the county allowing construction of the hospital to begin.  For a period of 18 months, area residents, community service organizations, and local industries generously contributed to a variety of fund drives for the development of the hospital.
In April, 1966, Allan J. Loding, Building Committee chairman, and Charles W. Rigney, president of the Hospital Board of Directors, turned over the first shovel of dirt.  To meet the anticipated needs of a growing community, shortly after the groundbreaking ceremony an additional fund drive was launched to cover the cost of an increased number of beds.
After a year of construction, the hospital's dedication and ribbon-cutting ceremony was held in June 1967.  In a city with a population of 2,500, approximately 2,560 people attended the ceremonies – more evidence of enthusiastic community support.
https://signsbycrannie.com/wp-content/uploads/2015/05/awning-medical.jpg
447
700
Mark Lemon
https://signsbycrannie.com/wp-content/uploads/2019/03/signs-by-crannie-logo-sm.png
Mark Lemon
2015-05-18 18:12:45
2015-05-18 19:01:57
Commercial Awning Replacement