Read what our clients have to say:
---
"We are pleased with the results"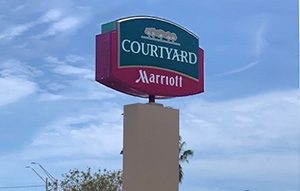 Brett and the Florida team did a really nice job with the sign for our hotel in Fort Myers. It was a tough project, due to the timing, but every step of the way Brett kept us apprised. The team also got is a variance from the City of Fort Myers to be 5' higher when reinstalled, so it looks great at night and during the day.
There are photos attached, so thanks again. We are pleased with the results.
Tom Anderson, General Manager
Courtyard Fort Myers/Cape Coral Florida
---
"I would not hesitate to work with SBC in the future"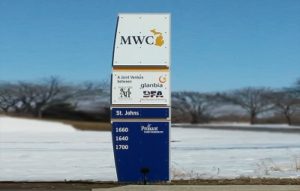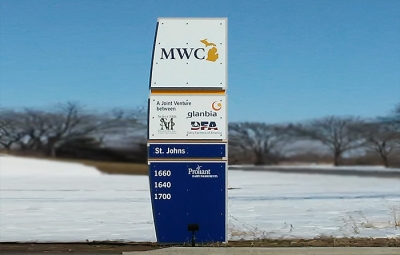 I wanted to reach out to express my appreciate for Jeff on this project. He and I got thrown together after a former co-worker left the company and things transitioned seamlessly (at least on my end because Jeff was doing all the heavy lifting to get project notes straightened out for me.
As I shared with Jeff already, SBC was not low bid on the project but made us more comfortable with capabilities during the proposal phase, so we hired you. I've found over the years that paying more money for a service does not always equate to a better project outcome, but in your case, it did. Jeff's honesty and fairness coupled with his product knowledge, organization, and responsiveness lead to a very successful delivery of your scope of work. Beyond Jeff, Pete and Bob were excellent to work with from a field standpoint and always delivered high quality workmanship in a safe manner. It's a rarity to be able to communicate instructions and expectations to individuals only once and be happy with the outcome, but again, these guys made it happen.
Because of these individuals, I would not hesitate to work with SBC in the future. Thank you for delivering your part of this project with excellence!
Grant Bucher
Shambaugh & Son, LP
---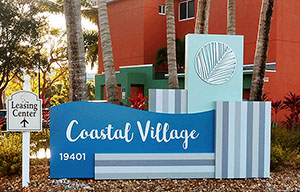 "This is Such a Fantastic Sign"
"I really enjoyed working with you and your team throughout this process. It's hard to find a contractor let a lone a sign company that understands the vision and how the person works. And we definitely found it with you all. This is such a fantastic sign and I can't wait for the property to post a night photo so we can see the illumination!"
Teena Nguyen
Costal Ridge
---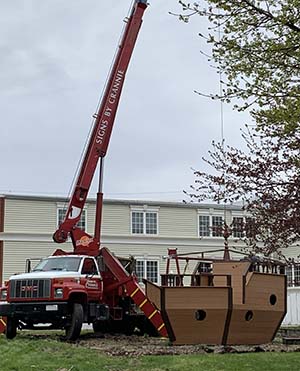 "Big thanks to your team"
"Big thanks to your team and their rigging expertise to help us get these (safely!!) behind a fence and into a below grade playground area!"
Dallas Gatlin
Carriage Town Ministries
---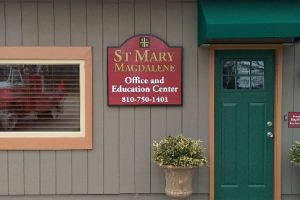 "I couldn't be more pleased!"
"I was not present when the sign went up, but it looks fantastic! My compliments to you and your staff! I couldn't be more pleased!"
Fr. Gabriel
St. Mary Magdalene Church
---
"He very clearly has a great deal of expertise"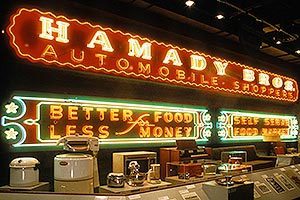 Hi Dan and Nick,
I was hoping you could pass this message along to whomever seems appropriate at Signs by Crannie. We had Bob from your shop helping us out with all our neon signs at Sloan Museum today and he did an excellent job.
With museums, we have different needs than your average customer (or at least I would assume) and I find that with contractors and outside parties they often seem to think we're just being fussy and picky. Over the years, I've gotten a lot of negative responses when I ask people to take more care when working with artifacts.
When I went through my usual spiel, Bob said that he often works with things that require special care and that he understood what I was asking. It wasn't just talk, either–he proved it with his meticulous care for our artifacts and with the advice he was able to give. He very clearly has a great deal of expertise. That and he is an incredibly nice guy who I enjoyed spending a day with.
I believe very strongly in showing gratitude and appreciation for a job well done, so I wanted to express my thanks and say that I'm glad he was with us today.
Geoff Woodcox
Curator of Collections
Sloan*Longway
---
"Sign Looks Awesome…"
"Sign looks awesome. Thank you and all others involved in the fabrication/installation process. Thanks so much."
Kindest regards,
Beth
Michigan Implant Solutions
---
"I love my new sign!"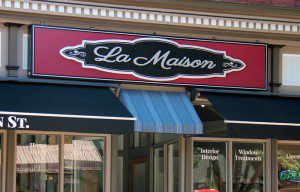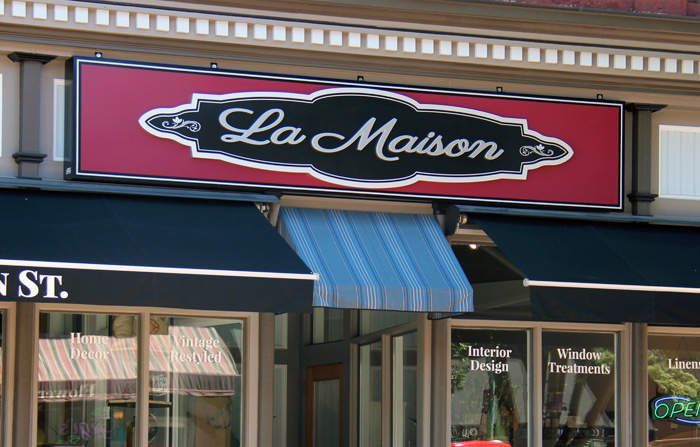 Dear Dan Crannie – I want to begin by saying, thank you. I love my new sign! I am very pleased with the new look of my store front. I now have a name on Main Street!
Shawn Amidon is awesome! I am a new business owner and I wasn't exactly sure how I wanted my sign to look, but I had a few ideas. My ideas didn't always work, but I was OK with that because Shawn was able to take me through the design process in creating a custom sign. He would show me how and why a particular shape or back ground color related more cohesively to the overall look. My sign had to have a sense of style and class, yet somehow make a statement as to what may be inside. It had to be unique. It had to be the right color combination. It had to be the right size in relation to my entire store front, which actually used to be two separate businesses many years ago. It had to "pop" for lack of a better word! My new sign has all of these desired features.
As an Interior Designer I know that it's all in the details! It was important for me to work through the custom design process and Shawn was patient in giving me the time I needed to absorb it all.
I highly recommend 'Signs by Crannie' and their team of designers, fabricators and installers!
Sincerely,
Dana McGrath, Owner
La Maison Chelsea LLC
Chelsea, MI
---
"I have heard nothing but compliments…"
"We are very happy with how the project turned out too! We were very pleased with the initial designs presented and your company did a great job of presenting material & color options, communicating through the final process and delivering on time! I have heard nothing but compliments on the final sign & awning!"
Gloria
---
"I never would have thought it possible."
Dan –  I felt I had to take the time to write you a quick letter and let you know the impact of the sign you provided for us recently. Our local business environment has many challenges so keeping a close eye on expenses is a matter of survival. We had a sign that was looking tired but was still basically functional. It was with a bit of trepidation that I asked you to come up with a new sign design that would display our logo and hopefully promote our brand.
I had no idea so many people paid attention to our signage. During the couple of days of transition from our old sign to our new one, I had people calling and stopping by to make sure we weren't closing our doors or that something wasn't wrong. I got an inquiry from someone at McLaren's corporate office across the street just from looking out their office window!
Not a day has gone by since the new sign has gone up that someone hasn't commented positively. Even those who were just driving by and not stopping have called to compliment us on the design and look of the new sign.
I can't say enough, Dan, about how professional your company was throughout the process, even when I was waffling back and forth on whether to do the project or not. I even got a call from you as the job was progressing inviting me to come see the sign in the creation process.
In my 30 years in the jewelry industry, I have learned that how a customer is treated and the product they are delivered both determine how they gauge their experience with the company. In that regard, I could not have been treated better by you and your staff and judging by my customer's response, the sign was worth every penny!
Thanks Again,
R. David Gaines, President
Gaines Jewelry
---
"Above & beyond service – exceptional!"
Mike Bresson, Owner
Culver's Restaurant, Estero, FL
---
"I would recommend Signs by Crannie to anyone and everyone."
Signs by Crannie did an amazing job on both my interior and exterior signs. I only provided them with the logo and the general style I was looking for and they delivered beyond my expectations. Their pricing is reasonable and they were able to deliver high quality work in a very short time frame.
Nick Trifon is amazing to work with, and the installers James and Dave were professional and courteous as well.
I would recommend Signs by Crannie to anyone and everyone. Thanks!
Kristy Garrett, Owner
Yoga Shelter Rochester Hills
---
"Exceeded my expectations."
Thank you for the fantastic sign work. It is so refreshing to have a project completed that exceeded my expectations.
Congratulations to you, Gary, and the entire crew on a job well done.
Sincerely,
Dr. Mike Wolfgram
---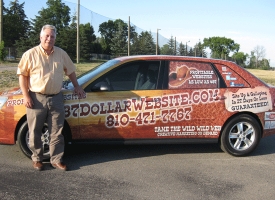 "A big thank you to Signs by Crannie."
The car wrap has paid for itself over and over, it really gets attention!
Dave Crabill
Eclectic Sales & Creative Marketing, LLC
---
"You did such a nice job…"
"When I ask you to come up with a little something to put on the side of my maroon HHR, I had no idea the beautiful addition I would be sporting.  The design came out perfectly and the comments were many.  It looked so nice; I thought I would add it to my gray van knowing it couldn't look as good but would be adequate.  It out shone the first by far.  Why not the third?  It is the best one yet! They all were done in a very timely fashion and at exactly the amount promised.
You did such a nice job I would like you to see what you can do with my road sign to match. Thank you for a job more than well done. Look forward to working with you in the future and bragging about who is responsible for our new "logo".
Tonya Ketzler, Ketzler Flowers
---
"I'm so glad you are part of the team."
Signs by Crannie did a great job with the signage at ELGA Credit Union! I'm so glad you are part of the team that made this project so fun and special.
Shannon White, FUNchitecture
FUNctional design solutions
---
They deliver the best every time!
Signs By Crannie is our go to company for many years. They provide the best customer service! Proven to be very reputable by delivering equitable quality in every aspect of our transactions. They deliver the best every time! We will continue to share your business with other companies. Thank you Crannie!
John Tremaine
Tremaine Real Living Real Estate
---
"I appreciate the nice look they have."
We picked up and installed my sign faces yesterday. I appreciate the nice look they have. Thanks for the help and please tell your team how much I like them. Hope to deal with your company again
Mark Laszlo
---
"The service was AWESOME!"
Thanks for the QUICK SERVICE on the Ennis van, very impressive.
Ron Brooks
Wright Brothers Collision
---
"I would recommend them"
We have had the pleasure of working with Signs by Crannie on a few different projects and I can't say enough good things about them. They are honest, highly skilled, and professional along with being true supporters of our community. I would recommend them to anyone needing a quality sign!
Aaron Hamp
---
"We recommend Signs by Crannie"
Fenton Home Furnishings has used Signs by Crannie several times over the years. We love the exceptional quality of the product we receive for the price. Plus the service is second to none. We recommend Signs by Crannie for anyone looking to build relationship that you can trust for years to come or even if you just need a one time purchase for a product that will last with a staff to back it up!
George
---
"I would highly recommend them"
I have worked with Signs By Crannie for over 14 years at multiple locations. I have never been disappointed with the signs they built and installed. They are always quick when service is needed and have bailed me out on several occasions when service was needed on short notice. I would highly recommend them for any sign projects you may need.
Martin J.
---
"I can't say enough good things"
Signs By Crannie went above and beyond to meet our needs on a very short time frame. I can't say enough good things about them!
Dean K.
---
"Very talented artists and craftsmen"
Signs by Crannie produces high quality work. They are a very professional organization with very talented artists and craftsmen. I highly recommend them.
George A.
---
If you have a testimonial you'd like to share, send it to Dan@SignsbyCrannie.com.