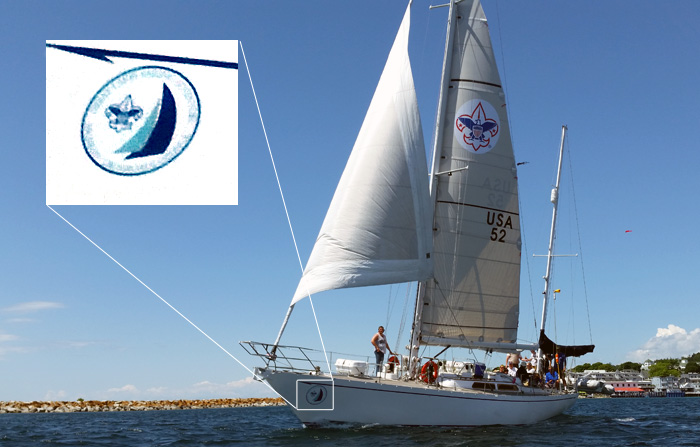 Signs by Crannie has been a long-time supporter of the Boy Scouts of America, so when the Michigan Crossroads Council asked us to create bow sail boat graphics for their Michigan Great Lake's Sailing Adventure craft, we were happy to help.
The Retriever, a 52″ ketch, is used for the BSA's offshore sail training program where youth learn the fundamentals of sailboat handling, steering, waterway navigation, marine safety, and various cruising techniques used by seasoned sailors. It is available to all members of the Boy Scouts of America.
Based in its home port of Mackinaw City, Michigan, the Retriever utilizes harbors throughout the Great Lakes as classrooms to teach youth how to sail.  Program options include two-night weekend cruises, and six day programs. The Retriever is designed to accommodate a maximum of 10 youth and two (2) adults. Co-ed crews are welcome, but the advisor must contact the council in advance to discuss options.
Programs are available for any BSA Troop, Team, Crew or Ship. Non-BSA groups must contact the council for information about Great Lakes Sailing Adventure programs. Participants must be at least 13 years of age by September 1st of the year they participate for week-long Packages.   Boy Scout Troops are limited to 10 eligible youth and two (2) adult male leaders. Co-ed Venture Crews or Sea Scout Ships must have co-ed adult leadership and may have a maximum of eight (8) youth members due to the sleeping accommodations on the vessel. All participants must be registered members of the Boy Scouts of America.
https://signsbycrannie.com/wp-content/uploads/2015/10/sail-boat-graphics.jpg
447
700
Mark Lemon
https://signsbycrannie.com/wp-content/uploads/2019/03/signs-by-crannie-logo-sm.png
Mark Lemon
2015-10-19 14:17:04
2015-10-19 14:22:38
Sail Boat Graphics