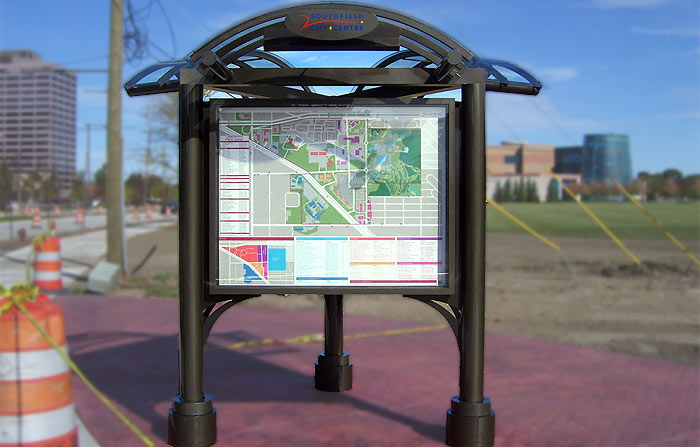 City Wayfinding Signs – Southfield, MI
The City of Southfield was looking for city wayfinding signs for their city center upgrade. They chose Signs by Crannie to help them complete the project.
The project included a large kiosk, road signs, monument signs, and historical information pedestals. The 2-tone aluminum directional signs have dimensional details and reflective copy for added nighttime visibility. The 3-sided kiosk has covered locking cabinets for maps, etc, clear Lexan™ canopy covers and custom LED light fixtures built into the canopies. The internally-illuminated municipal center signs have 3/4" push thru acrylic copy and logos.


About City Wayfinding Signs
Wayfinding refers to signs that guide people while enhancing their understanding and experience of the space. Wayfinding is particularly important in complex environments such as urban centers, healthcare and educational campuses, and transportation facilities. As our environments become more complicated, people need visual cues such as maps, directions, and symbols to help guide them to their destinations. In confusing environments, effective wayfinding signs give a sense of well-being, safety, and security.
In urban settings, city wayfinding signs are used by both pedestrians and motorists, who each have unique challenges navigating streets and roadways. These signs help people develop "mental maps" of the terrain and simplify their routes to the extent possible.
Healthcare campuses like Hurley Medical Center in Flint present a unique set of navigational challenges. Often, these environments have developed over time and encompass multiple buildings. This makes navigation among the buildings complex. In addition, patients and families who visit healthcare campuses are often under stress. Wayfinding systems can help reduce their stress by providing easy-to-follow signage and legible directions to their destinations. In some settings, reliance on text-based messaging is minimized and systems rely heavily on non-text cues such as colors and symbols like this parking garage in Florida.
In transportation settings such as airports, travelers need information to guide them from the roadway to the airport and through the terminal complex. Here's an example of an archway to the Southwest Florida International Airport. Signs like this provide directions through a carefully planned sequence that delivers information to users at key decision points in their journey.
Comprehensive wayfinding systems combine signage, maps, symbols, colors, and other communications. Increasingly, they can be integrated with mobile applications, digital displays, RFID, and other wireless technologies.
https://signsbycrannie.com/wp-content/uploads/2016/03/city-wayfinding-sign.jpg
447
700
Mark Lemon
https://signsbycrannie.com/wp-content/uploads/2019/03/signs-by-crannie-logo-sm.png
Mark Lemon
2016-03-22 13:48:23
2019-03-03 16:19:29
City Wayfinding Signs – Southfield, MI