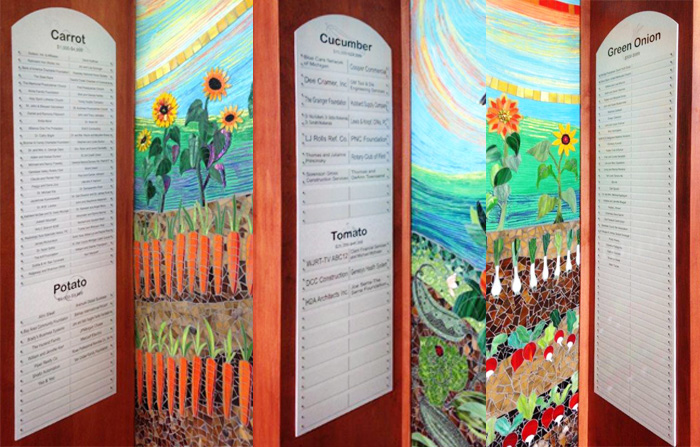 Food Bank of Eastern Michigan Donor Plaques
The Food Bank of Eastern Michigan needed to recognize the many levels of donors at their new facility in a way that complimented the beautiful wall mural in their new location. Signs by Crannie designers created these tasteful multi-level donor plaques and individual room donor plaques. They were designed so that additional donors can be added in the future at minimal cost by Food Bank staff.
The plaques are part of the "donor garden" — a seven-panel, 50 foot long mosaic of a hand sewing a seed used to recognize donors and their level of contributions. Donors included community members, leaders and businesses.
Read the MLive article about the Food Bank of Eastern Michigan unveiling here.
Here are the donor amounts that the vegetables represent on the mosaic:
Radish: $100-$499
Green Onion: $500-$999
Carrot: $1,000-$4,999
Potato: $5,000-$9,999
Cucumber – $10,000-$24,999
Tomato: $25,000-$49,999
Orange: $50,000-$99,999
Apple: $100,000-$199,999
Cantaloupe: $200,000-$249,000
Sweet Corn: $250,000-$499,999
https://signsbycrannie.com/wp-content/uploads/2015/06/interior-donor-sign.jpg
447
700
Mark Lemon
https://signsbycrannie.com/wp-content/uploads/2019/03/signs-by-crannie-logo-sm.png
Mark Lemon
2015-06-23 17:19:00
2019-03-03 16:22:04
Food Bank of Eastern Michigan Donor Plaques