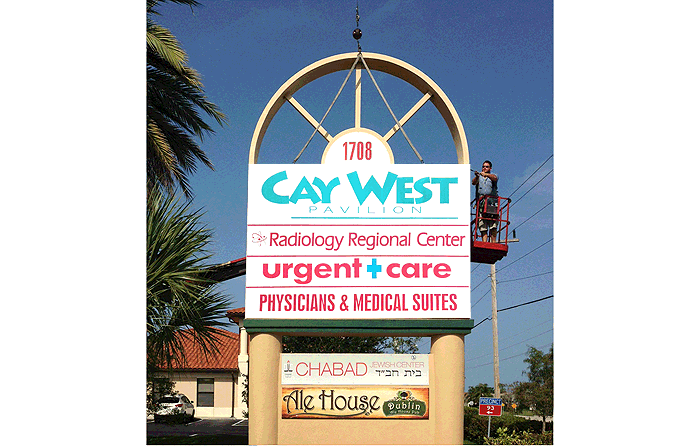 A Florida client asked us to do a  copy change on a 10×15′ flex face sign. In addition to the copy change, SBC updated the graphics and fonts to make the sign look modern for a very small investment. You can see the results.
Flex face sign material is used for adding graphics to lighted sign cabinets. It serves as both the graphic, and the sign cabinet cover. The flexible face material covers the interior sign lighting, and allows the glow of the light to shine through at night.
This particular project was unique in that the original design was a bead edge flex face, which is no longer used on modern signs. Signs by Crannie was able to work with the older technology, while still creating a high-impact graphic that made the sign look modern again.
In spite of their age, flex face signs are still in use because they offer many benefits. First, they are often less expensive than rigid plastics. But more importantly, because they are almost like a fabric, a flex face sign will not break like a rigid sign. In fact, flexible-face signs are designed to withstand 110 to 140 mile per hour wind loads. this makes them ideal for pylon or highway signs, especially in regions with high winds and storms like South Florida.
Flex face signs are also appropriate for signs with faces larger than 10 feet by 10 feet because the material can come in virtually any size. For example billboard companies now use flex face printed material.
https://signsbycrannie.com/wp-content/uploads/2014/09/flex-face-sign.gif
447
700
Mark Lemon
https://signsbycrannie.com/wp-content/uploads/2019/03/signs-by-crannie-logo-sm.png
Mark Lemon
2014-09-30 20:29:36
2017-09-13 21:56:25
Flex Face Sign Makeover