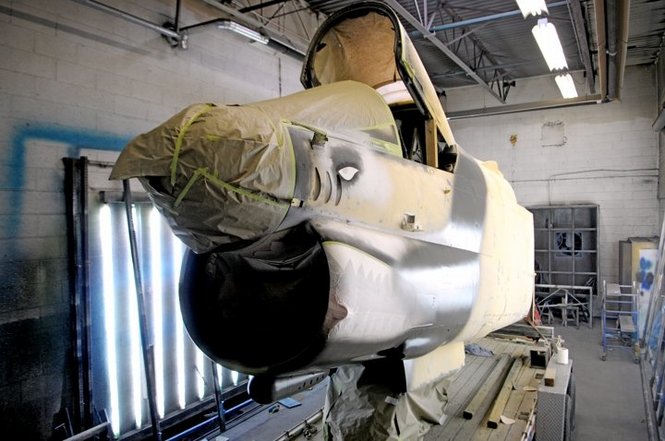 Sign Company Paints and Decorates American Fighter Jet
Sarah Schuch | The Flint Journal
MT. MORRIS TOWNSHIP, Michigan — Workers who usually spend their day creating a 6-by-12-foot sign for a grocery store or a 4-by-8-foot electric sign for a school district are revamping a Vietnam-era U.S. fighter jet bound for a museum in Israel.
Employees of Signs by Crannie are painting and decorating the front half of the plane and detailing the cockpit.
The owner of the plane needed a crane to lift the 8,000-pound portion of the A-7 Corsair, a storage lot to hold it in and a paint booth big enough to accommodate the plane.
The sign manufacturing company at 4160 Commerce Drive in Flushing fit the bill.
Owner Dan Crannie knows the owner of the plane — who buys and sells military equipment — and has offered the use of the company's cranes in past projects.
"This was just one more thing he had to do that ended up with us being more involved in it," Crannie said. "Everybody's got a kick out of it."
The front end of the plane, about 21 feet in length, was brought to the company about six months ago on a flat bed trailer. It had sat out in the weather for 20 or 30 years out west and was faded and banged-up, Crannie said.
Employees started working on it about a month ago and aim to be finished in a couple of weeks.
When the project is complete, the plane, which first saw action during the Vietnam War, will have a camouflage body with military decals and a shark-like mouth and eyes.
Nick Posh, a painter for the company, said revamping the fighter jet definitely is outside of a normal workday.
"I was excited to get on it, to start working on it," he said. "It's something unique to do, something I haven't done before."
As of Thursday, Posh said at least 120 hours have gone into the project so far, including sanding, priming and creating a few aluminum panels for the frame.
Only the front half of the aircraft is being revamped — the Israeli museum display will focus on the cockpit, Crannie said.
Once complete, it will be shipped by boat to Israel.
The price tag for the rehab is about $10,000.
© 2012 MLive.com. All rights reserved.
https://signsbycrannie.com/wp-content/uploads/2012/03/9177444-standard.jpg
441
665
Mark Lemon
https://signsbycrannie.com/wp-content/uploads/2019/03/signs-by-crannie-logo-sm.png
Mark Lemon
2011-01-08 00:53:50
2015-09-17 01:53:18
Sign Company Paints and Decorates American Fighter Jet