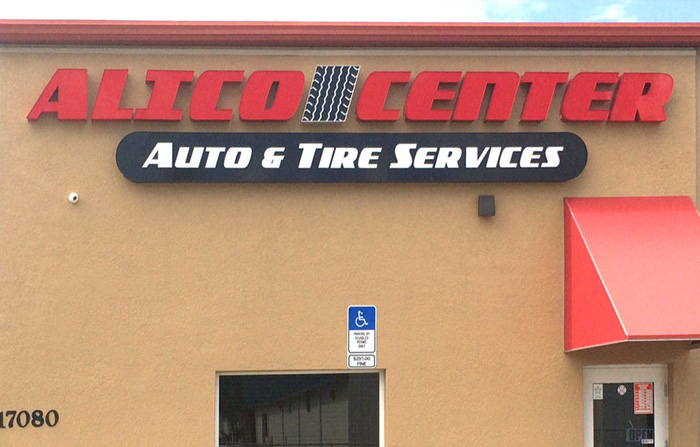 Channel Letters Fort Myers Florida
The entrepreneurs at Alico Center Auto and Tire Repair in Fort Myers, Florida chose Signs by Crannie as their on-premise marketing experts.  With no logo or colors in mind, they left it up to us to design their entry sign – and we delivered.
Applying a minimalist, but deliberate approach, Signs by Crannie designed, fabricated and installed flush-mount channel letters with a tire-tread graphic and a tag line capsule internally illuminated with low-energy LED's. The customer was so happy with their sign they adopted it as their copyrighted logo.
What's the Difference between Raceway Mount and Flush-Mount Channel Letters?
All channel letters are individually crafted from from industrial-grade aluminum to provide rust-free, long-term wear characteristics. A translucent plastic face is cut to fit the open face of the letter can. Then a trim cap border is applied to its edges which gives the letter face a finished appearance and creates a fastening surface to attach it to the letter can. LED lights are fitted inside the letters to provide nighttime illumination.
Depending on how the letters can be mounted to a building, and how electrical connections can be routed, the channel letters may be attached to the building using a raceway mount or flush-mount.
A raceway mount is typically an aluminum box that each of the letters are attached to, then the raceway is attached to the outside wall. The raceway not only allows for different mounting options, but can house the electrical lines and connections between the letters so that holes do not have to be drilled in the outside wall for each letter.
Flush mount letters use studs mounted to each letter that attaches directly into the outside wall. Although Flush mount letters offer a "cleaner" look, they typically require longer to install since each letter must be individually mounted to the outside wall, then the wall drilled so that the wires to the internal letter lights can be attached to a power source.
Most landlords require raceway mounted signs so there are fewer holes in their building fascia. Most businesses that own their buildings prefer to have the letters directly mounted to the building for a cleaner appearance.
While both raceway-mount channel letters and flush-mount channel letters have their place in outdoor advertising, it requires an experienced sign installation expert to review the mounting and electrical wiring options in order to determine what kind of mounting is best for a particular situation.
Does the acrylic used in channel letters matter?
Not all translucent plastic (acrylic) is created equal. There are cheap quality acrylics on the market that will begin to turn opaque after just a few years and your sign will become dim damaging your branding. We don't use this stuff. Also some sign companies will use 1/8" thick acrylic to save a few dollars. We use 3/16" thick acrylic. Acrylic is a petroleum based product and will begin to dry out after just a few years. If your sign is made of this thinner material it is susceptible to breakage. Then if you have replace a letter face here or there you'll have miss matched colors because acrylic fades from UV exposure as the years go by.
https://signsbycrannie.com/wp-content/uploads/2015/11/channel-letters-fort-myers-florida.jpg
447
700
Mark Lemon
https://signsbycrannie.com/wp-content/uploads/2019/03/signs-by-crannie-logo-sm.png
Mark Lemon
2015-11-02 11:44:39
2017-09-13 21:49:07
Channel Letters Fort Myers Florida