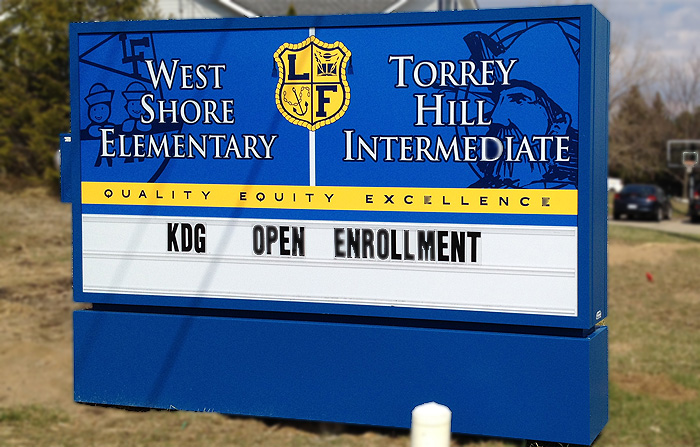 Lighted Cabinet Sign, Lake Fenton Schools
West Shore Elementary and Torrey Hill Intermediate Schools in the Lake Fenton School District sit beside each other over 1,000 feet off the main road. Their old sign was non-lit, making it impossible to see the entrance marker at night. The school wanted a new, lit sign, yet still wanted to utilize the replaceable letters from their old sign for cost savings.
Signs by Crannie designed an internally lighted cabinet sign that used the school district logo and colors. However, instead of running the power from the school building, SBC worked with the local power company to run power from the pole directly to a meter on the side of the sign. By having its own meter, SBC saved the cost of a 1,000 foot power run from the school building.
One interesting element in this new lighted cabinet sign is that the graphics behind the Lake Fenton Schools logo were taken from logos used by the 2 different school buildings.

https://signsbycrannie.com/wp-content/uploads/2014/04/lighted-cabinet-school-sign.jpg
447
700
Mark Lemon
https://signsbycrannie.com/wp-content/uploads/2019/03/signs-by-crannie-logo-sm.png
Mark Lemon
2014-04-22 19:37:51
2014-04-22 19:45:27
Lighted Cabinet Sign, Lake Fenton Schools