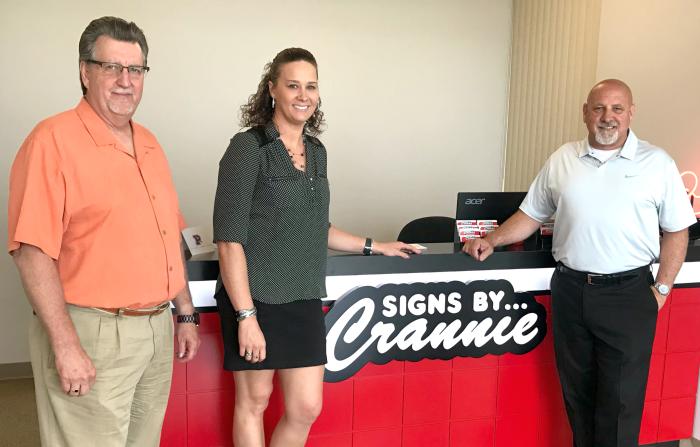 (L-R) Gary Gebhardt, Sales Manager, Amber Taylor, Florida Sales Executive, Dan Crannie, President, Signs by Crannie
Signs By Crannie welcomes their newest Sales Executive, Amber Taylor to the team. Amber will leave Flint to join the sales team in Ft. Myers, Florida with Sales Manager Steve Flynn.
Amber comes to Signs By Crannie with a background in Marketing & Advertising, Sales and Management. Her recent position as Marketing Director for a large Restoration Company gave her the extra training and expertise perfect for this position. She has over 11 years of sales and customer service experience working with business owners and corporate clients.
"When I was first approached by Dan at the Whaley Children's Center Annual Tux & Tennies Gala, he asked me what I would think about moving to Florida and joining his team. I honestly thought he was joking," Amber said.
"I think I'm most excited for the opportunity to really help a business take their marketing to the next level with a bright and vibrant image that will draw in more business," she continued. "Oh, and moving to Florida isn't going to be that bad either."
Amber has been involved in numerous local groups and projects in the area. She is the outgoing Communications Chair for the Flint Women's Forum, past President of the Clio Gain BNI group, and Ambassador Chair for the Flint and Genesee Chamber of Commerce. She was recently awarded the Certified Tourism Ambassador of the Year Award for Genesee County, and previously received the Outstanding New Member of the Year Award from the Flint Women's Forum. Amber looks forward to making many more new friends and connections in Florida.
"I'm ready for this HUGE change in my life, and excited to work with such a fantastic company that cares about their employees and customers."
Although she is moving to Florida, Amber plans to remain a member of the Flint Women's Forum, as they are currently fundraising for a passion project she helped create. The Women's Forum and the Back to the Bricks Committee are bringing a "Rosie the Riveter" statue to Genesee county, which will be the 3rd Statue in the Automobile Heritage Collection displayed at the Bishop International Airport, baggage return.
For more information on being a Sponsor for the Rosie project click here: http://flintwomensforum.org/rosie/